Rocky Mountain Hospital for Children at Midtown Surgical Center
Expanding Access to High-Quality Pediatric Surgery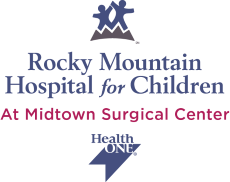 Rocky Mountain Hospital for Children has reached an affiliation agreement with Midtown Surgical Center to help ensure patients receive the very best in pediatric surgical care at a convenient, outpatient center.
Numerous pediatric surgery specialists affiliated with Rocky Mountain Hospital for Children already provide pediatric surgery at the Midtown Surgical Center location, and all surgeries for children are performed with specially trained nurses and pediatric anesthesiologists.
The affiliation agreement is formal recognition of the quality of care, competency of the surgical support team, and recognition that all equipment and processes are specifically designed for pediatric patients.
The goal of this agreement is to assure quality of surgical care for children and to increase access to surgical services in a convenient, patient friendly outpatient settings. Additionally, the affiliation brings accessible, cost-effective outpatient surgery into our entire system of high-quality services for children.